In the News
Dr. Domb and Dr. Hartigan, former fellow at the American Hip Institute, describe novel technique for repair of gluteus medius tears
Source: healio.com
The lateral hip is a common site for hip pain. It has been termed greater trochanteric pain syndrome and the condition can be debilitating for patients. It has been shown in MRI studies that recalcitrant greater trochanteric pain syndrome is secondary to underlying abductor tendon pathology in about 50% of cases and it may not respond to the usual treatments for greater trochanteric pain syndrome, such as therapy, NSAIDs and corticosteroid injections. Abductor tendon pathology most commonly occurs in women in their fifth and sixth decade of life and it often presents as a lateral pain, limp, Trendelenburg gait and weak abduction of the hip.
Raising the bar for a successful hip replacement or resurfacing: Making a joint that feels so normal, the patient forgets they had surgery.
Source: healio.com
In this study, we sought to raise the bar for success in hip arthroplasty, essentially defining success as a surgery that the patient forgets that they had. Using the new forgotten joint score, we were able to show that the patients in our series almost never think about their hip surgery, as their resurfaced or replaced hips feel like and function like a normal hip," study co-author Benjamin G. Domb, MD, told Healio.com/Orthopedics. "At our institution, Birmingham hip resurfacing is considered an excellent surgical option for the middle-aged, active male with hip arthritis.
Gluteus Medius Tears: Dr. Domb and the American Hip Institute team invent novel technique for repair
Source: healio.com
Greater trochanteric pain syndrome is often a manifestation of tears in the gluteus medius tendon. This condition is most prevalent in female patients who are between 40 and 70 years old.
Mike Freeman's 10-Point Stance: The Seahawks Defense Is Scaring Teams Once Again
Source: bleacherreport.com
Regular-season football is back. The Seahawks have that look again, the NFL's justice system also has that look again and Rams fans will have to look for any and all quarters hiding in their couch cushions.
Five Key Exercises To Improve Balance And Prevent Falls
Source: wesmoss.com
More than 1/3 of people over the age of 65 experience a fall or already have fall-related issues. The consequences of falling can be severe given the lowered bone density, weakened muscles, and decreased capacity of the body to heal itself as we grow older. While there are many causes and risk factors for falls such as weakened reflexes, osteoporosis, environmental hazards, and surgery, we need to focus on finding a solution to the problem rather than dwelling on our fears of falling.
Here's what cycling in the Tour de France does to your body
Source: mic.com
The body's process of creating new blood vessels and dilating existing ones in order to maximize the oxygen getting to the muscles is called neovascularization, Dr. Benjamin Domb, an orthopedic surgeon who specializes in sports medicine, said in an email on Wednesday.
Improving Joint Pain with Physical Activity
Source: wesmoss.com
According to the Center for Disease Control, an estimated 15 million people live with severe joint pain which is defined as discomfort or inflammation from any part of a joint including cartilage, bone, ligaments, tendons or muscles. Joint pain can cause serious pain, stiffness and swelling and limits a person's ability to perform basic functions, compromising their quality of life.
Dr Domb on Herald Radio
Dr Benjamin Domb joins Herald Radio's FargoSt to talk the seriousness of Isaiah Thomas' hip injury.
AUDIO: @BenjaminDombMD joins @HeraldRadio's #FargoSt to talk about the seriousness of #IsaiahThomas hip injury. https://t.co/GxiKkzJn09

— Boston Herald Radio (@HeraldRadio) May 25, 2017
Hip Injuries and Childbirth: What You Need to Know
Source: FitPregnancy.com
Medical experts report that more and more women have a torn hip labrum as a result of giving birth. Dr. Domb was interviewed about this recently.
After Knee or Hip Replacement, No Place Like Home
Source: The New York Times
The American Hip Institute and Dr. Benjamin Domb have pioneered outpatient joint replacement. Learn about it in the NY Times.
Dr. Domb selected as Top Doctor by West Surburban Living
Source: West Surburban Living
Free Seminar on Robotic Joint Replacement - April 4
Join AMITA Health orthopedic surgeons Dr. Robert J. Daley and Dr. Benjamin G. Domb as they discuss how robotic arm-assisted joint replacement can help you or a loved one. This seminar is free, however registration is recommended. Light refreshments and appetizers will be provided.
To register, call 855.692.6482 or go online at
Read More
Dr. Domb quoted by Equinox on drugs prescribed to athletes
7 Tips To Prevent Common Ski Injuries This Winter
Ask an Expert: Article in Daily Hinsdalean
Read More
Knotless pull-through Technique Creates Efficiency for Labral Hip Reconstruction
Dr. Benjamin Domb Quoted in "Orthopedics This Week"
Golden State Warriors: A Closer Look at Damian Jones' Injury
Our Interview With Damian Jones' Surgeon: Dr. Benjamin Domb
Dr. Benjamin Domb call San Francisco Warriors' 1st round draft pick Damian Jones 'outstanding individual'
Dr. Benjamin Domb Quoted in "Orthopedics This Week"
Dr. Domb speaks on ABC 7 Health
About youth sports injuries, and how to prevent them:
Dr. Benjamin Domb Quoted in TIME Magazine
The effect of liposomal bupivacaine injection during total hip arthroplasty: a controlled cohort study
A promising future for patients undergoing primary, revision hip arthroscopies: The American Hip Institute conducts groundbreaking study
Return to Sport After Hip Arthroscopy: Aggregate Recommendations From High-volume Hip Arthroscopy Centers
Arthroscopic hip surgery with a microfracture procedure of the hip: clinical outcomes with two-year follow-up
"Endoscopic Transtendinous Repair for Partial-Thickness Proximal Hamstring Tendon Tears."
Dr. Domb interviewed on ABC7 Windy City Live about football injuries, from NFL to high school
Dr. Benjamin Domb interviewed on WGN radio about football injuries, from NFL to high school
3/6/14-Someone Historical-Photo Tribute to Dr. Frank Jobe by Jon SooHoo/LA Dodgers
Dr. Domb Does Charitable Surgery for Victim of Terrorist Bombing
DJO Global X Act Rom Product
Healthbeat: The hip rip
Dr. Domb Gives Tips on Avoiding Golf Injuries
Dr. Domb selected by N.Y. Times as Top Doctor for Hip Arthroscopy Click on the thumbnail for enlarged view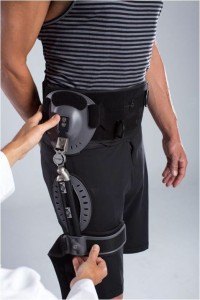 Chicago Doct & Rabbi Aid Israeli Victem of Terror
Pro Bono Surgery for Victim of Bombing is an International Good Samaritan Effort Between Israel- Renowed Medicine Man and Dr. Benjamin Domb
Dr. Domb selected as Top Doctor by U.S. News & World Report!
Source: Health - US News
Dr. Benjamin Domb Receives Arthroscopy's Best Video of the Year Award!
View Dr. Domb's award winning video:
Amateur Endurance:
Marathon Training - Avoiding Injury
Women's Health (November 2011):
Trib Local - Hinsdale (July 2011):
Tips for Injury-Free Marathon Training
Bolingbrook Patch (June 2011):
Expert Tips for Avoiding Summer Injuries
Healio (February 2011):
Open Surgical Dislocation and Arthroscopic Treatment are Comparable for Femoroacetabular Impingement
Chicago Parent (September 2010):
New Childbirth Injury on the Rise, Hinsdale Doctors Find
The Doings - Clarendon Hills (August 2010): Journal Standard (August 2010):
Living with Pain: Lena Man's Quality of Life Improves after Hip Arthroscopy
Karon Outspoken (November 2009):
Dr. Domb Talks About Changes in Surgery (Video)
You will need the Adobe Reader to view and print these documents.