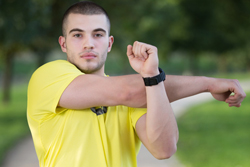 Baseball players are susceptible to a wide range of injuries during the game. These include acute injuries such as ligament and tendon tears that can occur while running as well as overuse injuries of the pitching arm such as rotator cuff tendonitis or elbow tendonitis.
A regular stretching program will help keep you limber on the field, correct muscular imbalances, and improve mental alertness so you are less likely to injure yourself.
Here are 3 important baseball stretches that can be incorporated into your pre-game training:
1. Lying Knee Roll Over Stretch: While lying on your back with your arms out to the sides, bend your knees and move them to one side allowing your hips and lower spine to rotate during the movement. Hold the stretch for a couple of seconds and then let both knees roll over to the opposite side. This stretch helps improve hip and lower spine flexibility.
2. Cross Body Stretch: Bring your arm across your body and use your other hand to hold your elbow. Now pull the arm gently across your chest. Hold for a few seconds and perform the movement with the other arm. This stretch improves posterior shoulder mobility.
3. Triceps Stretch: While holding one end of towel in your hand, place your hand behind your head. Hold the other end of the towel that is hanging down behind your back with the other hand and gently pull on it, so you feel a good stretch in your triceps. Hold for a few seconds and then switch arms.
These 3 stretches are a good starting point to loosen up tight muscles and joints. As you regularly perform these stretches and gradually add other stretches to your training program, you will soon notice a marked improvement in your flexibility and be ready to take your game to the next level.
Dr. Domb is a nationally recognized orthopaedic surgeon specializing in sports medicine and arthroscopic surgery of the hip, shoulder and knee. A noted pioneer in advanced new techniques in hip arthroscopy, he delivers innovative treatments for patients with hip injuries such as impingement and labral tears. Dr. Domb is also an expert in arthroscopic surgery of the shoulder and knee, adept in specialized techniques including arthroscopic rotator cuff repair and all-inside ACL reconstruction.