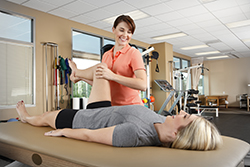 Physical therapists are experts in body movement. They help improve or restore mobility and reduce painful symptoms through different modalities of treatment. Physical therapy may be recommended after undergoing surgery to help you return to activities of daily living.
During your first visit to the physical therapist you may be asked a lot of questions, so a personalized physical therapy rehabilitation plan can be created that will best suit your condition. You too must ask questions to ensure your health goals are achieved through the physical therapy program.
Here are some key questions to ask your physical therapist:
What kind of specialization and experience does your physical therapist have that will benefit your condition?
If you have a musculoskeletal problem, a physical therapist with advanced certification or specialized training in Orthopedics would the ideal choice to appropriately formulate a physical therapy plan and guide your care.
Will you be seeing the same physical therapist during all your therapy sessions?
Seeing the same provider for all your sessions will help build a rapport and improve communication between you and your physical therapist. You will be better able to give accurate feedback regarding how you feel the therapy is helping you.
What specific type of physical therapy will be provided for your condition?
The various modalities of physical therapy include manual therapy, ice & heat therapy, ultrasound, electrical stimulation, strength training, aquatic therapy, sports-specific conditioning and functional therapy. Your physical therapist will discuss options that would be best suited to you.
What level of discomfort or pain can be expected during each physical therapy session?
There may be some amount of discomfort or pain during your physical therapy session. However, pain that worsens with each therapy session may be an indication that adjustments must be made to the physical therapy program. Be sure to give your physical therapist precise feedback regarding the intensity, duration, and frequency of your pain.
By closely following the instructions of your physical therapist regarding how to perform your exercises, doing them regularly at home as recommended, and not missing any scheduled sessions; you may be able to keep the number physical therapy sessions to the bare minimum and maximize treatment outcomes.
Dr. Domb is a nationally recognized orthopaedic surgeon specializing in sports medicine and arthroscopic surgery of the hip, shoulder and knee. A noted pioneer in advanced new techniques in hip arthroscopy, he delivers innovative treatments for patients with hip injuries such as impingement and labral tears. Dr. Domb is also an expert in arthroscopic surgery of the shoulder and knee, adept in specialized techniques including arthroscopic rotator cuff repair and all-inside ACL reconstruction.