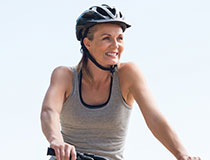 In the past, patients would shy away from a hip replacement fearing it would lead to a highly restricted life afterwards. This is no longer the case thanks to the significant advances made in the artificial joints used and the techniques employed during the procedure. During the past decade, the direct anterior hip replacement surgery has gained popularity across the board as the treatment of choice when replacing your hip.
Using this approach, your degenerated joint can be replaced through a single small incision made in the front of the hip. In addition to not having to worry about sitting on your incision after surgery, the anterior approach allows access to the hip joint without having to cut muscles or soft tissues. As the muscles remain intact, they provide better support and stability to the joint. A special table is used which allows precise placement of the artificial joint ensuring accurate leg lengths and durability of the artificial joint. With the potential for less pain, faster recovery, less blood loss, and improved mobility, you could be up and about on the very same day as the surgery.
Not everyone is a candidate for this procedure. Certain body types or skeletal structures may make it difficult for the surgeon to access the joint through the anterior approach. Having had previous hip operations may also be an impediment. Finally, this is a very technically demanding procedure and you need to find a surgeon who is well qualified and experienced in performing this surgery. If your hip problems are interfering with the things you enjoy, whether it may be playing sports or working on your garden, contact us today to find out if you may be a candidate for this potentially life-changing procedure.
Dr. Domb is a nationally recognized orthopaedic surgeon specializing in sports medicine and arthroscopic surgery of the hip, shoulder and knee. A noted pioneer in advanced new techniques in hip arthroscopy, he delivers innovative treatments for patients with hip injuries such as impingement and labral tears. Dr. Domb is also an expert in arthroscopic surgery of the shoulder and knee, adept in specialized techniques including arthroscopic rotator cuff repair and all-inside ACL reconstruction.