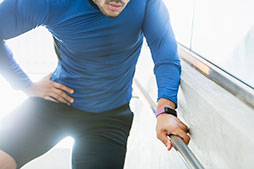 PRP therapy is one of the innovative breakthroughs in regenerative medicine that is helping more Americans recover faster from orthopedic injuries and remain active well into their 70s and 80s. It's not just the weekend warriors that benefit, many top-level athletes and sportsmen have credited PRP with helping them return to their game within a matter of weeks after sustaining injury.
According to a study conducted by the American Academy of Orthopaedic Surgeons, platelet-rich plasma therapy provides an effective and durable treatment option for treatment of hip pain caused by hip bursitis, a common but difficult-to-treat condition. Other hip conditions that may be treated with PRP therapy include osteoarthritic hip pain, trauma or impact injuries, running injuries, and sacroiliac joint pain.
The body's natural healing process does not always correctly heal an injury. In such cases, PRP therapy can be used to cause mild inflammation and supply growth factors and other nutrients to help restart the healing process and repair damaged tissue.
Benefits of platelet rich plasma therapy:
Non-surgical: There is no incision or cutting involved. The platelet rich plasma is injected into the site of injury.
Cost-effective: PRP therapy is more affordable than surgical repair of injured ligaments or tendons.
Long lasting: When compared to traditional cortisone injections for treatment of hip pain, the effects of PRP therapy last longer.
Minimal risk of complications: As the platelet-rich plasma is derived from your own blood, the possibility of infection or an allergic reaction are minimal.
Minimal downtime: The entire procedure which includes drawing of your blood, processing it to derive platelet-rich plasma and injection into the site of hip injury can be completed in about 45 to 90 minutes, and you are fully awake during the procedure.
If you have ongoing hip pain, stiffness, and restricted range of motion that is limiting your ability to exercise or you have difficulty sleeping due to hip pain, you may be an ideal candidate for PRP therapy. Contact us to set up a consultation and find out if PRP can relieve your hip pain.
Dr. Domb is a nationally recognized orthopaedic surgeon specializing in sports medicine and arthroscopic surgery of the hip, shoulder and knee. A noted pioneer in advanced new techniques in hip arthroscopy, he delivers innovative treatments for patients with hip injuries such as impingement and labral tears. Dr. Domb is also an expert in arthroscopic surgery of the shoulder and knee, adept in specialized techniques including arthroscopic rotator cuff repair and all-inside ACL reconstruction.