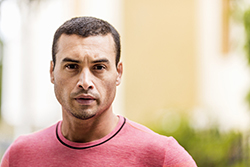 Hip resurfacing involves the replacement of the damaged surfaces of the bones that form the hip joint. These surfaces are the outer layers of the top of the thighbone and the cup-shaped socket of the pelvis to which the thighbone is connected. During the procedure, the bone in these areas is trimmed back and then capped with a metal covering. There is minimal loss of healthy bone with hip resurfacing.
When compared to a hip replacement procedure, hip resurfacing offers greater benefits for active individuals that suffer from osteoarthritis of the hip. Young or middle-aged patients with many years of activity ahead of them are at a higher risk for experiencing breakdown of a hip replacement due to increased stress on the hip joint caused by their active lifestyles and may require a second hip replacement procedure later in life. Research studies have suggested that a second hip replacement is usually not as strong as the first one as there is less bone available for the surgeon to work with the second time around.
As less bone is removed following hip resurfacing, the ball-and-socket hip joint is more stable and there is less likelihood of a hip dislocation. Patients report their hip eventually begins to feel normal and they can return to their normal walking pattern quickly following the procedure. Additionally, there is sufficient bone remaining after hip resurfacing to allow for standard total hip replacement if it becomes necessary in the future.
Unlike a total hip replacement, a hip resurfacing procedure is not suitable for all patients. The best candidates for hip resurfacing are younger than 60, have large frames, strong bones, and are usually men. Older patients with weak bones and small frames are at a high risk of complications such as a femoral neck fracture if they undergo the procedure.
If you are suffering with hip pain that is negatively impacting your quality of life, consult your doctor or call us to determine whether a hip resurfacing procedure might benefit you.
Dr. Domb is a nationally recognized orthopaedic surgeon specializing in sports medicine and arthroscopic surgery of the hip, shoulder and knee. A noted pioneer in advanced new techniques in hip arthroscopy, he delivers innovative treatments for patients with hip injuries such as impingement and labral tears. Dr. Domb is also an expert in arthroscopic surgery of the shoulder and knee, adept in specialized techniques including arthroscopic rotator cuff repair and all-inside ACL reconstruction.