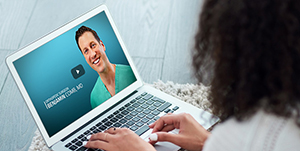 Many people are finding their traditional medical care on hold in the time of COVID-19. In-person yearly checkups, first-time consultations, post-op exams, and more have been cancelled or postponed as medical practices, facilities, and hospitals comply with government regulations and CDC guidelines. Many states, including Illinois where American Hip Institute & Orthopedic Associates (AHI) is based, have issued "shelter-in-place" orders, preventing many Americans from being able to visit their doctor for everyday exams and procedures.
Enter telemedicine. This practice, which involves the use of telecommunication technologies to provide virtual consultations, care, education, monitoring, and more, has been employed by many doctors and medical professionals in the past few years as technology has advanced. Now, it is not only becoming a mainstream option, but often the only option for patients to receive care and connect with their physician to address their health and care.
As with any technology, there can be reservations about losing the warmth of an in-office appointment when having a video call. This reticence paired with the stress, anxiety, and uncertainty of COVID-19 can feel overwhelming for patients making this sudden shift in their healthcare journey. Yet, virtual appointments come with many patient benefits, including:
Personalization: You are guaranteed the same personalized, excellent medical care you would receive in an in-office setting, and then some. As you are in the comfort of your own home, you can have a hand in how your virtual experience is delivered.

Convenience: Again, the medical care you receive is in the comfort of your own home. That means no hours spent in the waiting room or taking time off to travel to and from your appointment.

Accessibility: Have you ever struggled to find the right doctor due to location? There are neither borders nor drive times with telemedicine. Access to specialists are at your fingertips – you can receive consultations and care from a doctor regardless of whether they live down the block or states away.

At AHI, Dr. Domb and his team of experts have streamlined the telemedicine process in order to provide these benefits to new and existing clients. When someone books an appointment with AHI, they are emailed a link to a secure patient portal login. This can be done through a phone, computer, or tablet with a quality webcam.
The visit incorporates both video and audio, allowing physicians to discuss symptoms, view wounds, and asses gait and range of motion for hips, shoulders, and knees. Your doctors at AHI can lead these appointments from one of the facility's patient rooms or really, from anywhere with high-speed internet access.
Before your first telemedicine appointment, there are some tips all patients can use to make it a successful experience:
Technology: Ensure you have access to the right technology and internet service, and that it is all working properly. Run a test call with a friend or family member, and plan to sign in five minutes prior to your appointment to ensure you can successfully connect. Whether you use your phone, computer, or tablet, use whichever device you got most recently – chances are the webcam is higher quality.

Environment: Ensure your space is calm and private. For privacy and comfort, choose an area or room in your home that is quiet, well-lit, and distraction free.

Preparedness: Prior to your appointment, make sure your doctor has access to completed intake forms, assessment forms, and all previous imaging and reports. This allows them to review them ahead of time so there is more to discuss when you ultimately review them together. Additionally, make sure you've completed all pre-consultation consents prior to your appointment.

If you still have questions regarding your upcoming telemedicine appointment, the team at AHI is here to help ensure all patients experience an excellent level of care. Visit our website or contact us with your questions or concerns.