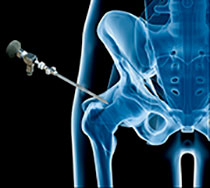 Arthroscopy, a term derived from the Greek words 'arthro' (joint) and 'skopein' (to look), is considered one of the most important orthopedic developments of the twentieth century. The combination of advanced fiber-optics which allow better visualization than the naked eye and highly-specialized instruments that provide greater dexterity than the human hand can deliver treatment through small incisions for top-level athletes, reducing recovery times and postoperative complication rates.
Since the 1980s, there has been growing recognition among orthopedic surgeons specializing in sports medicine of the immense benefit to athletes in treating hip conditions using this minimally invasive surgery. The small key-hole incisions, reduced damage to muscles, faster healing, and decreased downtime make hip arthroscopy the ideal surgery for athletes with hip injuries who wish to get back in the game as soon as possible.
Dr. Benjamin Domb, an internationally acclaimed sports medicine orthopedic surgeon, has been a pioneer in the use of hip arthroscopy to improve clinical outcomes in the athletic population. He has pioneered several ground-breaking arthroscopic techniques for hip cartilage preservation and capsular tightening to provide greater hip stability as well as for recontouring of the hip joint surface in cases of hip impingement.
In a landmark study conducted by a panel of leading orthopedic experts including Dr. Domb, data were collected on competitive high school, college, and professional athletes who underwent arthroscopic treatment of hip injuries, evaluating clinical outcomes at least 2 years following surgery. Results showed an amazing 85.4% of hip arthroscopies enabled patients to return to sports, with 82.9% having full maintenance or improvement of competitive ability. The study suggested that hip arthroscopy enables most athletes to return to their sport with similar or improved hip function. This is one of the biggest studies to date on arthroscopic treatment of hip injuries in competitive athletes.
Driven by the improvements in scientific technology, the innovative efforts of those at the forefront of sports medicine, and the meticulous recording of clinical outcomes, hip arthroscopy is being used with increasing frequency in professional athletes and those who wish to return to an active lifestyle.
Dr. Domb is a nationally recognized orthopaedic surgeon specializing in sports medicine and arthroscopic surgery of the hip, shoulder and knee. A noted pioneer in advanced new techniques in hip arthroscopy, he delivers innovative treatments for patients with hip injuries such as impingement and labral tears. Dr. Domb is also an expert in arthroscopic surgery of the shoulder and knee, adept in specialized techniques including arthroscopic rotator cuff repair and all-inside ACL reconstruction.