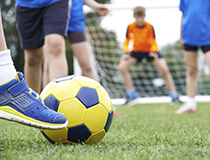 The weather is warming up and spring is finally here! After months of staying indoors, kids are now busy digging out their baseball gloves, cleaning off their shoes and gearing up to hit the field. Popular spring sports include soccer, baseball, tennis and track. Many of these players are unaware of the possible injuries that could take place.
Common sports injuries
Some of the common injuries your child could experience this summer include:
Muscle cramps
Shoulder and elbow injuries, such as sprains and fractures from playing throwing and racket sports such as tennis and baseball
Knee injuries such as ACL tears and patellar tendonitis
Ankle sprains and Achilles tendinitis
Hamstring tears and shin splints are commonly seen in track and soccer athletes
Concussions as a result of a head collision that could occur in any sport
Preventing sports injuries
Apart from the general sports injuries such as fractures, injuries specific to spring sports are due to sudden or overstretching of muscles and other soft tissues. Unfortunately, some injuries among children are inevitable, but there are simple measures that can help prevent many serious injuries.
Ensure all sports equipment and gear fits well, are not worn out and provide ample protection. Your child can outgrow helmets and gloves worn during the previous spring. A good pair of well-fitting shoes that are built for the appropriate sports can help prevent many sprains and strains.
Don't let the summer excitement of finally getting to play overwhelm your child. Encourage them to start slow. Gradually increasing the duration and intensity of the sport can mitigate overuse injuries. They have all spring to play. Warm up exercises are imperative for any sport. A good warm up and cool down regime can prepare and relax the muscles before and after play, and prevent muscle aches and strains.
Listen to the body. Your child needs to know when to slow down or stop with certain activities. If he or she is feeling ill or pain, it is important to give the body a break.
Ensure that your child stays active year-round so there is no sudden strain to the body once spring arrives.
Break from a single sport concentration to avoid straining a particular set of muscles.
Most importantly, your child should enjoy the sport and not find it extremely strenuous, stressful or a source of pain. So this spring, let your child make the most of the sun, while staying safe and free of injury.
Dr. Domb is a nationally recognized orthopaedic surgeon specializing in sports medicine and arthroscopic surgery of the hip, shoulder and knee. A noted pioneer in advanced new techniques in hip arthroscopy, he delivers innovative treatments for patients with hip injuries such as impingement and labral tears. Dr. Domb is also an expert in arthroscopic surgery of the shoulder and knee, adept in specialized techniques including arthroscopic rotator cuff repair and all-inside ACL reconstruction.