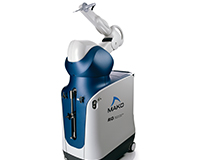 When hip injury or disease gets to the point where the pain and disability is adversely affecting your quality of life, it may be time to consider hip replacement surgery. Hip replacement is usually recommended when conservative treatments no longer relieve your symptoms.
Hip replacement has successfully been in practice for more than 100 years with major improvements along the way. Its transition from an open approach to a minimally invasive one has added to the safety, success and overall patient experience of this procedure. As with all surgical procedures, traditional hip replacement may be associated with certain complications, some of which would require hip revision or repeat surgeries. This can be serious, especially for older patients or those with compromised health. Anesthesia used during these procedures can occasionally cause liver toxicity, stroke and other life-threatening conditions.
A further advancement in technology has allowed greater accuracy and outcomes through the robot-assisted hip replacement surgery, which customizes the implant size and position of placement with the greatest accuracy. According to clinical data, MAKOplasty is 4 to 6 times more accurate than manual techniques and can minimize complications; thus, reducing the need for revision surgery. The complications that can be minimized include:
Dislocation:

Dislocation of the ball from the socket may result from poor placement of the components. MAKOplasty minimizes this complication with the accurate positioning and alignment of components.

Changes in leg length:

Inaccurate positioning of components can result in the operated leg being longer or shorter, which can further strain the hip. MAKOplasty ensures accurate leg length restoration while implanting the femoral component into the thigh bone.

Loosening:

Loosening of components may occur due to poor placement, or with gradual wear and tear. This is avoided in robotic hip replacement with the accurate placement of the acetabular component.
Impingement: When the components are not oriented correctly, they can cause impingement and rub against each other. MAKOplasty reduces the chances of impingement by placing the implants in proper orientation.
By minimizing complications, robotic hip replacement minimizes the need for revision surgery and helps ensure the longevity of the hip implant. Talk to your surgeon to determine if robotic hip replacement is ideal for you.
Dr. Domb is a nationally recognized orthopaedic surgeon specializing in sports medicine and arthroscopic surgery of the hip, shoulder and knee. A noted pioneer in advanced new techniques in hip arthroscopy, he delivers innovative treatments for patients with hip injuries such as impingement and labral tears. Dr. Domb is also an expert in arthroscopic surgery of the shoulder and knee, adept in specialized techniques including arthroscopic rotator cuff repair and all-inside ACL reconstruction.