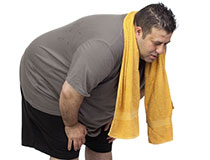 If you have been suffering from chronic hip pain and disability due to degenerative joint disease of the hip or an injury, a hip replacement can work wonders in terms of improved mobility, pain relief, and overall quality of life. Prior to the operation, however, your doctor may recommend that you lose some weight. What has one thing got to do with the other you might ask? Plenty.
In the first place, being overweight or obese can cause complications even during the administration of anesthesia before surgery. The increased challenges for the anesthesiologist include locating veins for intravenous sedation, ensuring patent air passage and suffienct oxygen during intubation, and positioning the patient when administering spinal and regional anesthesia. The anesthesiologist also has to use larger doses of medication during the surgery to maintain sedation.
The surgery itself may be difficult due to having to retract a significant amount of tissue to get to the joint and replace it. As a consequence, the procedure may last longer, increasing the risk of hospital-acquired infection.
Following the procedure, healing of the surgical site may take longer due to poor circulation and excess tissue, among other reasons. Getting into physical therapy to improve your strength and mobility may be more difficult. In addition, the extra weight means more stress on your new hip. Even with all the advances in the field of hip replacement, why risk damaging it and having to go in for a repair or a new prosthesis?
Lastly, obesity comes with comorbidities such as hypertension, diabetes, liver disease, and breathing difficulties. These conditions can limit the options for the medications you can be given before, during, and after the procedure. You will also be at increased risk of deep vein thrombosis, wound infection, and delayed healing.
As you can see losing weight is important to the success of your hip replacement surgery and ensuring that you stay healthy and active for many years to come.
Dr. Domb is a nationally recognized orthopaedic surgeon specializing in sports medicine and arthroscopic surgery of the hip, shoulder, and knee. A noted pioneer in advanced new techniques in hip arthroscopy, he delivers innovative treatments for patients with hip injuries such as impingement and labral tears. Dr. Domb is also an expert in arthroscopic surgery of the shoulder and knee, adept in specialized techniques including arthroscopic rotator cuff repair and all-inside ACL reconstruction.