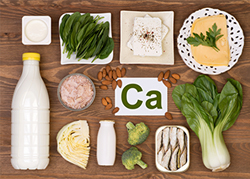 When it comes to foods that strengthen your bones, the two most important nutrients are calcium and vitamin D. By combining with other minerals, calcium forms hard crystals that give structure and strength to your bones. In addition, a small amount of calcium is also used for healthy functioning of the muscles, nerves, heart and blood. About 99% of the body's calcium is stored in the bones. If you are not getting enough calcium through your diet, your body will withdraw the calcium from your bones, which results in decreased bone density and increased risk of fractures and osteoporosis.
Peak bone density is attained by your early 20s, so adequate calcium intake is essential for children and adolescents. From that point on, it is all about maintaining bone density, which gradually starts reducing as you grow older. Foods that are rich in calcium include dairy products such as milk and cheese, broccoli, cabbage, okra, soya beans, tofu, nuts, and fish.
Vitamin D helps your body absorb calcium and therefore is important for strong healthy bones. Some good food sources of vitamin D include oily fish such as mackerel or sardines, eggs, fortified breakfast cereals, fortified fat spreads, and some powdered milks. It is difficult to meet all your vitamin D requirements from diet alone, and short periods (about 20 minutes) of daily sun exposure will help your skin synthesize additional vitamin D. If you are not getting enough sun, then you might want to consider a vitamin D supplement to boost your bone strength.
There are many other nutrients that play a role in strengthening your bones, not just calcium and vitamin D. All of them can be obtained by eating a healthy balanced diet that includes a variety of foods without neglecting those that strengthen your bones.
Dr. Domb is a nationally recognized orthopaedic surgeon specializing in sports medicine and arthroscopic surgery of the hip, shoulder and knee. A noted pioneer in advanced new techniques in hip arthroscopy, he delivers innovative treatments for patients with hip injuries such as impingement and labral tears. Dr. Domb is also an expert in arthroscopic surgery of the shoulder and knee, adept in specialized techniques including arthroscopic rotator cuff repair and all-inside ACL reconstruction.