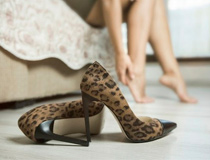 We all know the perfect, pointy pair of 4-inch heels can make any outfit, but our high-heeled beauties can cause a lot of pain and damage to our bodies. Studies have shown that these towering shoes can take a toll on women's spine, hips, knees, ankles and feet, and even alter their posture and gait. Dr. Benjamin Domb, orthopedic med surgeon and team physician for Chicago's WNBA team the Chicago Sky, has a few tips to help keep us looking and feeling good while we strut our stuff in our killer stilettos.
High heels alter a woman's center of balance and push the lower back forward, which takes the hips and spine out of alignment. In order to maintain balance, the calf, hip and back muscles become tense, putting an unnatural strain on the body. Here, I explain what you can do so that you look and feel good.
Tips:
Work it out:

Doing daily exercises to strengthen, stretch and massage your knee, hip, ankles and calves will help keep your body in check.

2 inches or less are best:

The higher the heel the worse they are for your body. Taller shoes make you shift your weight even more, which can lead to torn ligaments and stress fractures. Keep the heel height to 2 inches to reduce the stress on your body.

Add Orthopedic Pads:

When you wear heels, your entire body's weight is placed on the ball of your foot and your heel is used for balance only. Without extra padding on the ball of your foot, heels can become immensely uncomfortable, and even painful. If your favorite heels lack support, try adding orthopedic insoles or pads to add a little more support under the ball of your foot or throughout the entire sole to make heels more wearable.

Opt for a Platform Heel:

Choose a pair of heels that has a platform through the front of the shoe. The platform raises the ball of the foot as well as the heel, putting less pressure on the ball overall.

Give your heels a break:

Limit the time you wear your heels to three hours at a time to give your body a break. Plus, this will keep your heels in top shape for a long time without the daily wear and tear.
By following a few simple guidelines, you can still safely wear high heels without damaging your body.
Dr. Domb is a nationally recognized orthopaedic surgeon specializing in sports medicine and arthroscopic surgery of the hip, shoulder and knee. A noted pioneer in advanced new techniques in hip arthroscopy, he delivers innovative treatments for patients with hip injuries such as impingement and labral tears. Dr. Domb is also an expert in arthroscopic surgery of the shoulder and knee, adept in specialized techniques including arthroscopic rotator cuff repair and all-inside ACL reconstruction.