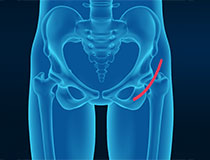 The direct anterior hip replacement is a minimally invasive procedure first performed in the US in 1996. In the past 10 years, there has been a growing trend among orthopedic surgeons as well as patients to opt for this technique when performing/undergoing hip replacement surgery.
The surgery is performed through a single small incision made in the anterior part of the hip. A significant advantage afforded by this approach is no muscles or tendons need to be cut during the procedure. This results in less injury and blood loss, faster recovery, and decreased risk of hip dislocation after surgery. This approach also allows the surgeon to precisely place the prosthesis, minimizing the chances of leg length discrepancy and improving the stability of the artificial hip.
Due to its many advantages, almost 20% of all hip replacements are now being performed using the direct anterior approach, a significant increase compared the handful of surgeries performed in 2005. While the short-term benefits are obvious, in the long term the direct anterior hip replacement has also been shown to provide excellent outcomes which are comparable to traditional hip replacement surgery.
A few contraindications to the procedure include obese or highly muscular individuals, as well as those with an extensive history of surgery performed on the hip. Such patients may benefit more from a traditional surgical approach to hip replacement.
Overall, most surgeons trained in this surgical technique agree that the anterior approach gives patients faster recovery and more confidence when using their artificial hip. One possible downside to this procedure is the steep learning curve that must be surmounted by the surgeon. However, the necessary skills can easily be obtained with sufficient surgery observation, cadaver courses, and review of available literature. As advances in the field of hip replacement continue at a rapid pace, the direct anterior approach is quickly becoming the treatment of choice.
Dr. Domb is a nationally recognized orthopaedic surgeon specializing in sports medicine and arthroscopic surgery of the hip, shoulder and knee. A noted pioneer in advanced new techniques in hip arthroscopy, he delivers innovative treatments for patients with hip injuries such as impingement and labral tears. Dr. Domb is also an expert in arthroscopic surgery of the shoulder and knee, adept in specialized techniques including arthroscopic rotator cuff repair and all-inside ACL reconstruction.