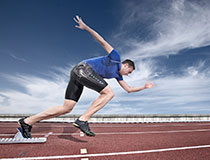 In recent years, the number of hip replacements performed in the US has been skyrocketing. A research study demonstrated that the numbers more than doubled from 138,700 to 310,000 over a 10-year period, with the highest increase (205%) being in the 45 to 54 year old age group. Surgeons say that even athletes in their 20s and 30s are sometimes opting for hip replacements.
Football All Star Bo Jackson, wrestler Hulk Hogan, professional bodybuilder Lou Ferrigno, and Olympic gymnast Mary Lou Retton are just a few of the iconic names in sports that have undergone hip replacements. Here are a few reasons why many professional athletes may eventually need hip replacements:
With advances in implant material, design, and surgical technique, many athletes are finding a new lease on life after undergoing hip replacements. Recent statistics regarding hip resurfacing, which is a relatively new surgical procedure, are also quite encouraging. In a study of 117 patients, 87% could return to their sporting activity (including high impact sports such as soccer, tennis, and squash) after having undergone hip resurfacing. In another study of 40 runners, 33 could resume the activity after hip resurfacing, some even at competitive levels.
If hip pain and stiffness has been hampering your performance and you have tried conservative treatments without much success, you might be a candidate for a hip replacement.
No Pain, No Gain: Due to the highly competitive and lucrative nature of modern sports, athletes often push their muscles and joints to the limit and beyond. Not surprisingly, the hip joint, which supports the weight of the entire body, does get its fair share of abuse on the playing field. The wear and tear of the hip joint in sports such as basketball and football is much greater today than ever before. Athletes often are often tempted and encouraged to "play through the pain", risking irreversible hip injury that can only be treated with replacement.
Biomechanical (Dis)advantage: The hip is a very sturdy joint that is protected and stabilized by a complex network of muscles, ligaments, tendons, and cartilage. Due to the complexity of the hip joint and its surrounding structures, about 30% of hip injuries go undiagnosed. Hence, conditions such as muscle strains, labral tears, trochanteric bursitis, and hip impingement may progress to the point of causing severe biomechanical imbalances in the joint, necessitating replacement of the hip.
High Impact Activity: The simple act of jogging or running can increase the load on the hip each time your foot strikes the ground to almost 5 times your body weight, and stumbling can increase the load to 7 times your body weight. Repeated loading over long periods of time during training or playing on the field results in microtrauma and ultimately degeneration of the joint.
Longer Life Expectancy: As human beings are living longer with more active lives (50 is the new 30), it is only natural that athletes are have longer careers. This does, however, mean an increased likelihood of hip replacement being needed in the mature athlete. While an athlete should not expect to have the same performance level with a hip replacement as with the original hip, many sports such as hiking, cross-country skiing, swimming, and cycling can be performed after hip replacement without limitation.
Dr. Domb is a nationally recognized orthopaedic surgeon specializing in sports medicine and arthroscopic surgery of the hip, shoulder and knee. A noted pioneer in advanced new techniques in hip arthroscopy, he delivers innovative treatments for patients with hip injuries such as impingement and labral tears. Dr. Domb is also an expert in arthroscopic surgery of the shoulder and knee, adept in specialized techniques including arthroscopic rotator cuff repair and all-inside ACL reconstruction.