What Our Patients Are Saying
We strive to provide every patient with the highest level of personal service and care.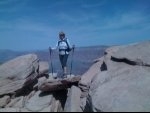 "Choosing Dr Domb to do my hip replacement surgery was one of the best decisions of my life. Why? Because he literally gave me a new life! My lifestyle always included daily activity be it biking, walking, roller-blading, cross-country skiing, yoga and it was getting harder and harder to move without pain. After three years of suffering, I decided to bite the bullet and find a doctor to perform my surgery. I wanted someone that was sharp, modern yet rooted with experience. Dr Domb and his staff not only fit the bill but super-ceded my expectations. I was walking the same day as surgery and discharged the next. It blew my mind that I could walk so soon without the same familiar pain in my hip joint. Poof - it was just gone! Recovery was much less of an ordeal than I expected as well. In fact, I was back at my gym six weeks to the day taking my favorite spin and yoga classes. I recently met a man who mentioned he had an artificial hip and I thought to myself, too bad he got an "artificial" hip when I have a "new" hip. It's just had to think of it any other way for me. It's my hip and it's wonderfully smooth and silky feeling. And I'm so grateful for it! Thank you Hinsdale Orthopedics, Dr Domb and your excellent staff! I have a new life now to do all the things I want to do without giving it a moment's thought. My ongoing appreciation,"
- Karen P