What Our Patients Are Saying
We strive to provide every patient with the highest level of personal service and care.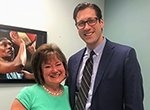 "I believe we are all given gifts and talents; if and what we choose to do with them is up to us. Dr. Domb is a gifted, skilled surgeon who has chosen to share his knowledge and techniques giving his patients like me the opportunity to enjoy a richer quality of life. Prior to my hip replacements, pain was a factor in my everyday limitations. With my two new hips, I've been able to travel with my family on an airplane, hike up a steep path to visit a castle, dance at my daughter's wedding, walk on the beach and do the everyday things like walk my dog.
I cannot begin to thank Dr. Domb enough for sharing his gifts and talents with me so I can once again live my life to the fullest. I'm happily adjusting to my new daily norm….no pain!"
- Leslie P