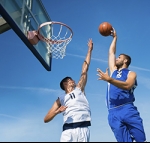 Joel Embiid is an NBA all-star. He relishes banging his 7-foot body against 76ers opponents, and averages 24 points and 11 rebounds per game.
"That's what I live for, being physical," he said after a Jan. 15 win over the Toronto Raptors.
Yet, wary of his injury record, and of the litany of fractures and sprains suffered by former NBA big men such as Yao Ming and Bill Walton, the Sixers continue to restrict Embiid's playing time. The star center has missed some games this year due to back tightness, and sits out for others that are scheduled on consecutive nights, due to a surgically repaired knee. All told, he has appeared in three-quarters of the team's contests, and is on the court for an average of 31 out of 48 minutes in each.
Too cautious? Probably not, experts in orthopedics and biomechanics say. The conventional wisdom — that larger bodies are at greater risk of injury — is correct.
There are exceptions to the rule, and Embiid, 23, a superb physical specimen who once protested, "I'm not made of glass," may well enjoy a long and fruitful career. But he would be wise to play it safe for three main reasons.
Weight. Embiid's weight is listed at 260 pounds — a big load for his muscles, bones, and joints to support.