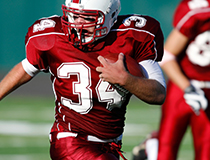 Football is a high contact sport associated with a high frequency of injuries despite extensive protective gear. Injuries may occur while tackling, throwing, kicking, catching, and running with sudden changes in speed and direction. Some injuries occur as a result of a sudden impact, while other injuries result from repeated stresses (overuse injuries).
In general, the offensive lineman positions are found to sustain the highest number of injuries while the individual position with the highest rate of injury is the running back. Other dangerous positions include the linebacker and wide receiver positions. Quarterbacks are less commonly injured and usually suffer upper body injuries. Overall, the knee was the most commonly injured site followed by the ankle.
Injuries often sideline players and can even end careers, sometimes causing lifelong disability. Notable injuries in the history of the NFL include that of:
Some of the most common NFL injuries include:

To minimize the risk of football injuries, it is necessary to:

Dr. Domb is a nationally recognized orthopaedic surgeon specializing in sports medicine and arthroscopic surgery of the hip, shoulder and knee. A noted pioneer in advanced new techniques in hip arthroscopy, he delivers innovative treatments for patients with hip injuries such as impingement and labral tears. Dr. Domb is also an expert in arthroscopic surgery of the shoulder and knee, adept in specialized techniques including arthroscopic rotator cuff repair and all-inside ACL reconstruction.